MANITOU scissor lifts with electric power engines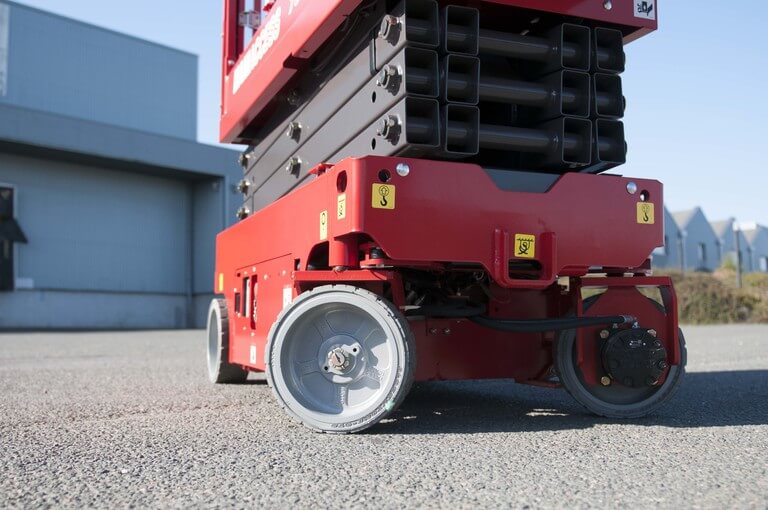 The MANITOU SEC and SE range consists of compact scissor lifts. Thanks to their narrow chassis, these models allow you to move efficiently and safely in cramped or congested working areas on industrial type floors.
SEC aerial work platforms have been specially designed to allow you to work at heights on level ground even in narrow areas. Whether between storage racks, a doorway or simply within your warehouses, these scissor lifts make it easy for your employees to work.
SEC scissor lifts are available in electric power. Offering different features, they ensure optimal safety for the operators on the platform thanks to several systems:
• The double chisel perfectly located in the axis of the frame for optimal stability.
• An anti-shearing system blocking the basket before the end of the descent.
• A floor with a non-slip coating.
In terms of comfort of use, the SEC and SE compact aerial platforms provide all the features necessary to obtain an optimal grip:
• Extension of the platform by more than 90 centimetres to increase the working surface.
• Removable control box that can be placed around the entire perimeter of the upper rail of the basket and also allows the machine to be driven outside the basket.
• Passage of standard size doors thanks to the compact structure of the frame and the folding guardrails.
• Ease of maintenance ensured by good accessibility to major components.
SEC and SE electric aerial platforms can carry up to 2 people and 318 kg in optimal conditions of comfort and safety. The maximum working height is nearly 12 meters depending on the model.
The electric aerial work platforms of the SEC and SE ranges meet all your material handling needs. Contributing actively to the efficiency of your employees, our scissor lifts allow you to optimize your operations and increase profitability. Their level of performance makes them a reference for all logistics and industry professionals, particularly in the sectors of construction and civil engineering (air conditioning, electricity, heating, painting), industrial cleaning, logistics (inventory) and event operations.
| | | | | | | |
| --- | --- | --- | --- | --- | --- | --- |
| Model | Platform weight (kg) | Working heigh (m) | Platform capacity (kg) | Number of people | Platform width (m) | Platform length (m) |
| | 1 503 | 7.79 | 227 | 2 | 0.81 | 1.83 |
| | 1 329 | 7.85 | 227 | 2 | 0.82 | 1.83 |
| | 1 959 | 9.93 | 227 | 2 | 0.81 | 2.44 |
| | 2 145 | 9.96 | 227 | 2 | 0.81 | 2.44 |
| | 2 781 | 11.75 | 318 | 2 | 1.17 | 2.41 |
| | 2 367 | 11.78 | 318 | 2 | 1.16 | 2.44 |
MANITOU scissor lifts with internal combustion engines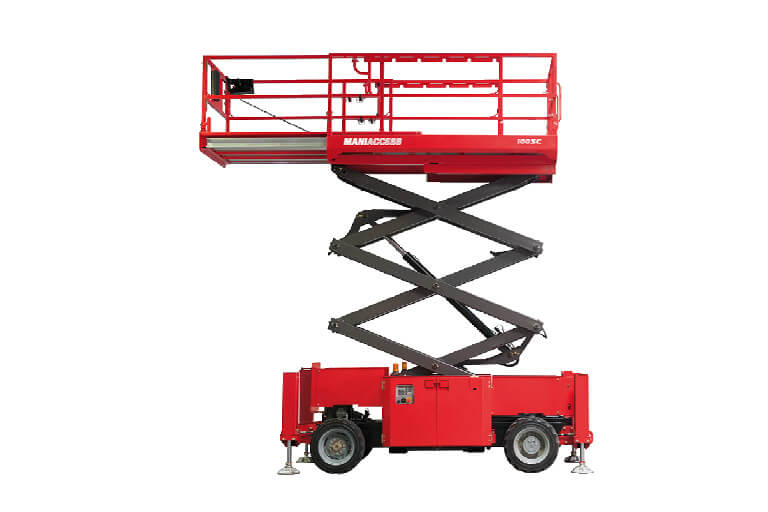 The SC range offers you three models of scissor lifts with combustion engine. These MANITOU lifting solutions combine power, compactness and off-road maneuverability. With a capacity for up to 4 operators, SC scissor lifts make your operations at height safe, whatever your business constraints. Discover all their performances!
The SC platforms are equipped with a double scissor with articulated arm. Their wide basket (2790 x 1600 mm) offers operators a spacious and comfortable operating space – each model has a basket extension of 1500 mm.
These high performance models also feature 4-wheel drive and an active oscillation system, giving them good off-road capabilities and a high gradeability (up to 40 %).
The SC aerial work platforms are easy to handle. The compact design allows you to work at height in the most confined and difficult to access areas, regardless of the ground conditions. The self-levelling stabilizers are ideal for working on uneven ground.
MANITOU SC aerial work platforms offer a large number of advantages for professionals who use them on a daily basis:
• Maximum safety for operators: non-slip aluminium floor, stabilizer, overload sensor with lift, shear protection when lowering the platform, tilt and descent alarms, double rotating beacon.
• Easy to use: large non-slip footboard, intuitive operator's platform, quick basket extension, compact design.
• All-terrain design: 4-wheel drive, active oscillation system.
• Great versatility of use: maintenance of industrial equipment, handling, storage...
• Reduced maintenance: quick access to the various components, on-board self-diagnosis system, sheet metal cover easy to repair...
MANITOU offers several other ranges of thermal access platforms for your construction sites and outdoor maintenance operations: articulated platforms, telescopic platforms, Man'Go platforms... Choose a model that meets your specific needs!
| | | | | | | | |
| --- | --- | --- | --- | --- | --- | --- | --- |
| Model | Platform weight (kg) | Working heigh (m) | Engine power (AG) | Platform capacity (kg) | Number of people | Platform width (m) | Platform length (m) |
| | 3 701 | 9.70 | 25 | 680 | 4 | 1.75 | 3.76 |
| | 3 882 | 11.75 | 25 | 454 | 4 | 1.75 | 3.76 |
| | 5 073 | 14.20 | 25 | 363 | 3 | 1.75 | 3.76 |