MANITOU AETJ electric articulated aerial work platforms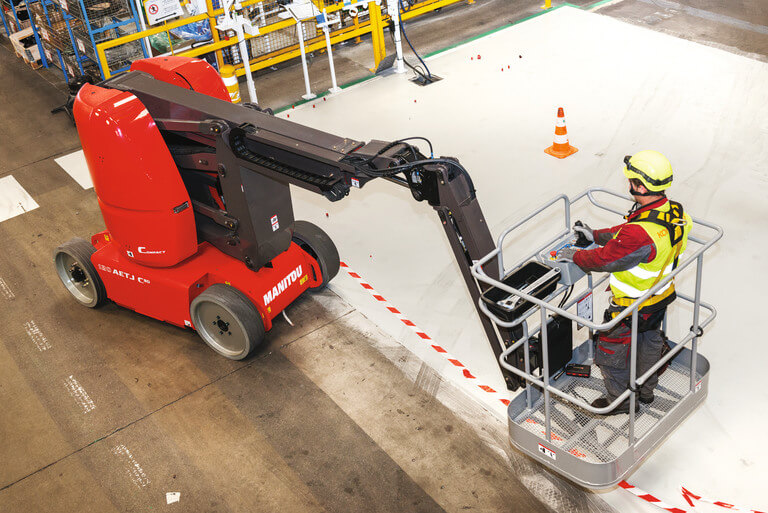 AETJ aerial work platforms have ideal characteristics to work efficiently at heights in optimal safety conditions. Equipped with two front steering wheels and two driving wheels at the rear, they avoid obstacles with ease and thanks to their exceptional offset, they cover a large working area without having to move the machine.
The design of AETJ self-propelled aerial work platforms is perfectly adapted to the requirements of industry professionals for their maintenance work and handling operations:
• Work platform designed to accommodate two operators (maximum 200 kg).
• Turret with maximum rotation at 355 degrees.
• Robust and rigid articulated structure.
• Mechanically welded chassis with two battery packs on each side for better weight distribution.
Thanks to their exceptional features, AETJ aerial work platforms offer a wide range of performance features that make them an essential handling solution in your factories and warehouses:
• ideal articulation and offset heights to work with precision in the most remote areas (max. height of 15 meters);
• high fluidity of machine movements thanks to electric motors;
• convenient operation through proportional controls;
• precise positioning in the working area thanks to smooth hydraulic movements;
• optimum safety guaranteed by advanced hardware, components and systems: open work and double-beam platform floor, tilt detector and load sensor, safety valves on the cylinders, negative braking system, stability bar by automatic engagement, emergency pump;
• great autonomy of use;
• simplified turret and chassis maintenance;
• longer service life than standard ranges on the market.
ETJ aerial work platforms are today's reference in the field of handling and industrial maintenance. Their unrivaled performance is particularly suited to the needs of the construction and civil engineering sector, advertising displays, construction, aeronautics industry and events.
MANITOU ATJ aerial work platforms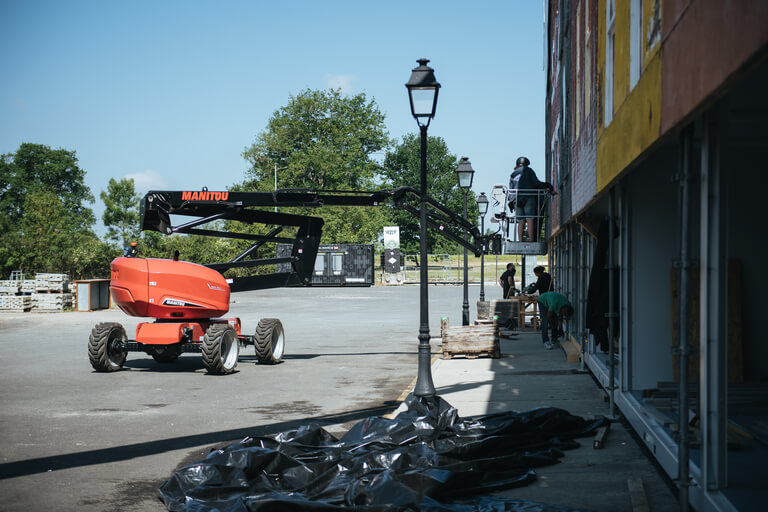 MANITOU ATJ aerial work platforms are designed with an all-terrain articulated structure that meets all your outdoor handling needs. Whether you are a rental company or an operator, these high-performance models are essential for handling loads in difficult to access and restrictive environments.
Advantages of ATJ access platforms:
• Galvanized baskets resistant to extreme conditions and contributing to the improvement of TCO (Total Cost of Ownership);
• Turrets that can be equipped with continuous 360 degree rotation;
• Chassis designed for off-road use and guaranteeing optimal behavior on uneven ground;
• Resistant structures that last over time;
•Machines are equipped with transmission axles offering excellent performance.
Thanks to this state-of-the-art design, our aerial work platforms are indispensable products in the material handling market. Today, they meet the precise needs of professionals in industry and construction – construction and civil engineering, cleaning, sandblasting, pruning, port and airport maintenance, event operations, etc.
ATJ rough-terrain aerial work platforms offer excellent performance:
• Off-road capacity provided by 4-wheel drive, 3 steering modes (4 or 2 steering wheels, crab), 2 reinforced drive axles, etc...;
• Easy to use: ergonomic basket and floor control station, spacious basket that can accommodate 3 operators, openwork floor for better vertical visibility, color screen displaying useful information for the operator at all times;
• Perfect safety guaranteed by a reinforced arm structure, double rails protecting the hands of the operators, load sensors, a negative braking system, an electric emergency pump and safety valves on the lift cylinders.
MAN'GO aerial ladders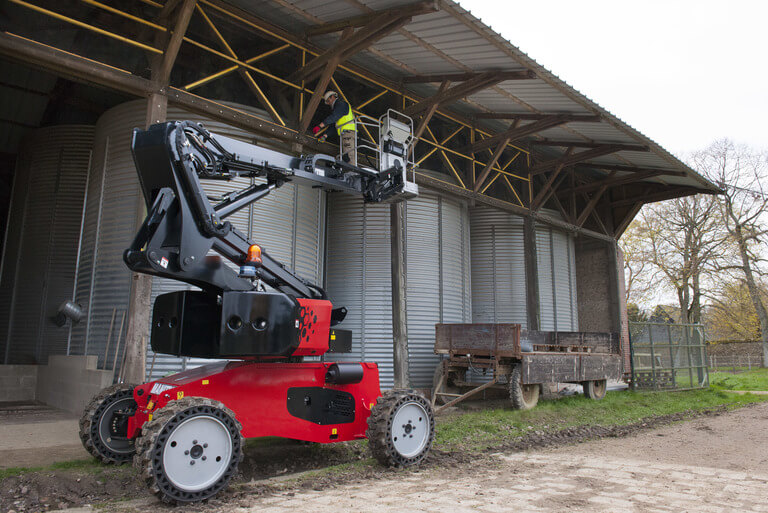 The MAN'GO 12 aerial work platform is specially designed and adapted for rental. All-terrain, compact and lightweight, it facilitates the operator's work and offers excellent visibility whatever the terrain conditions.
Its characteristics make it ideal for operators who wish to work outdoors in optimal conditions of comfort and safety:
• Safe lifting basket with double rails to protect the hands of the operators and to be able to take advantage of the whole surface;
• Turret allowing a rotation of 350 degrees via a hydraulic motor whose speed varies according to the extension of the telescope;
• Structure with the particularity of having only one lifting cylinder (only one lever is necessary to lift the arms in a combined way);
• Hydraulic motors powering 4-wheel drive;
• Compact machine.
The exceptional characteristics of the MAN'GO 12 aerial work platform meet the requirements of a large number of construction and industrial sectors: building and public works (structural work and finishing work), cleaning, sandblasting, pruning, airport and municipal maintenance, event operations, etc...